Spring loaded
brass check valves
work by allowing flow to pass through the disc that has been secured to the valve stem or shaft. This design is similar to an eccentric butterfly valve. When flow enters the valve through the inlet, the flow pushes against the disc, which opens the valve orifice. As the flow exits, the disc returns to its flattened state, shutting the flow. Spring loaded valves can be installed horizontally or vertically.
These check valves are available in a wide variety of sizes and designs. No matter what the application, you're sure to find the perfect brass valve. Choose from a 1/4", 1/2", and 3/4" valves to suit your needs. A brass check valve can be installed in a variety of applications from a domestic water submersible pump to a large industrial boiler. Brass check valves come in three different sizes and are available in a variety of materials.


The LD series is made of lead-free brass and is available with NPT Female ends. The body is constructed of two-piece lead-free brass and is spring loaded for optimal sealing in both high and low pressure conditions. High technology materials are used to make these valves, which meet US Federal requirements for lead in drinking water. If you're wondering why you need a brass check valve, consider the following. You may also want to consider a lead-free brass valve.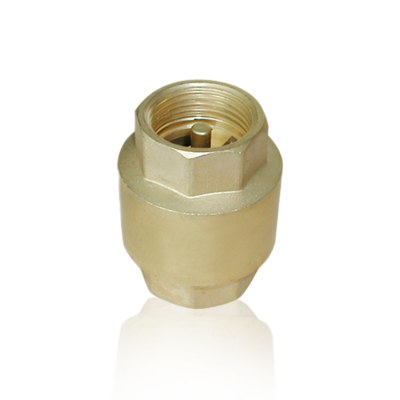 A check valve closes when the inlet pressure falls below the cracking pressure. This back pressure pushes the ball, diaphragm, or disc against the orifice. A spring or gravity may also aid in the closing process. If the spring or disc is stiff enough, the gate will be able to open and close. But if the inlet pressure is too high, the check valve will close. A brass check valve is the ideal choice if you have a tight budget.


A check valve is installed in accordance to its inlet and outlet. It should close before a reverse flow can reach it. If it closes too late, it will result in a loud hammer sound. This hammering sound is not caused by the valve closing, but by the water flowing backwards and squeezing the pipe. If you need a valve that can stop reverse flow, consider a swing-type brass check valve.
Ball-type check valves are easy to use, inexpensive, and have a simple design. They are reliable and compact. But they are not a perfect solution for high-pressure or vacuum applications. They also lack an indicator to indicate whether they are open or closed. Therefore, it is important to ensure the correct specification for the valve. If not, they will cause problems and cause backflow. And if you have a high pressure, the spring will not function properly.
A check-valve is a type of valve that prevents backflow and siphonage within the piping system. These valves prevent backflow by acting as a one-way valve. As a result, they prevent the mixing of return water and supply water. This is especially important for radiant floors. So, when choosing a brass check valve, you must choose the right one for the job. This way, your water will stay clean and safe.